2019 is the 50th Anniversary of Pallottine Renewal Center
Refresh your Spirit, Renew your Faith, and Reflect with God
Pallottine Renewal Center is the perfect place to get away from the office and host a secluded corporate retreat for your employees -we offer all the amenities required to conduct your business in a private, quiet and reflective setting.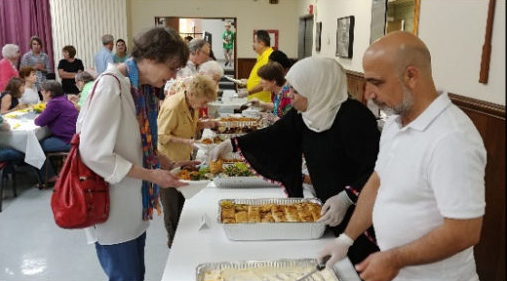 "Welcome Neighbor STL" Syrian Dinner
Saturday, February 29, 2020, 6-8pm
You are invited to a Welcome Neighbor STL Supper Club dinner to support refugee families recently settled in our area. Enjoy food, conversation, and catching up with friends – old and new. From cultural exchange to just plain fun, look forward to a great evening.
These meals present an opportunity for immigrant families to share knowledge and skills unique to them. It is also an opportunity for us to get a glimpse into their culture. These fundraising efforts can set them on a path of greater independence and confidence in their lives here in in the USA.
When you attend a Welcome Neighbor STL Supper Club, your meal will be prepared by immigrant neighbors who will share their culture and cooking skills by providing a table full of traditional food from their country of origin.
The suggested donation for the meal is $25.00, and reservations can be made HERE
Menu
(Guests choose between meat or vegetarian entrée*)
Shawarma – Chicken, mayonnaise, and pickles, wrapped in pita bread (meat entrée)
Maqluba – "Upside down" rice with eggplant. (vegetarian entree)
Hummus – A dip made of chickpeas, garlic, lemon, tahini, and olive oil. Served with pita bread.
Yalanji – Grape leaves stuffed with rice, Mediterranean spices, and lemon juice.
Tabouleh – A finely chopped salad made with parsley, lettuce, tomato, cucumber and bulgur. Mixed with lemon juice and olive oil.
Baklava – A rich, sweet dessert pastry made of layers of filo filled with chopped pistachios or walnuts and held together with honey and sugar syrup.
You are invited to participate in one of two ways to help Re-Vitalization our Campus:
Pallottine Renewal Center is accepting charitable donations to replace the oak trees that line our entrance drive. The beautiful trees planted by the Pallottine sisters 50 years ago are suffering from insect damage and getting weaker every year.  We partnered with Forest Re-leaf to replant new trees along our beautiful entrance drive, replacing those that are dying.  There is a great opportunity to get involved, have an eternal recognition on campus with a plaque and plant a tree in honor of a group, a loved one, a special occasion …  PRINTABLE APPLICATION


We also are revitalizing our entrance with new landscaping to help warmly welcome you onto our campus.  Donations are greatly appreciated to offset the cost of this renovation. DONATE HERE
Pallottine Renewal Center is Catholic in Identity, Ecumenical and Interfaith in Ministry.
It is a nonprofit organization, 501 (c)(3).